Exemplar Architects is a professional architectural practice with a fresh approach to a trendsetting clientele looking to be different.
Exemplar Architects, was established in 2019 by Viresh Mahabeer as the sole founding Director. The exhilaration of exploring new horizons and pushing personal boundaries saw him establish his own practice.
Born and raised in Newcastle, he had a childhood dream of being an Architect from the tender age of 5 with his architectural journey beginning at DUT in 1997, culminating in a Master's Degree from TUT in 2003. He joined the prestigious BILD Architects in 2006 eventually becoming an Associate, under the mentorship of Eddie Pretorius.
Having fulfilled the architectural dream, today he is a Professional Architect registered with SACAP, SAIA, PIA & is a Green Star Accredited Professional and a member of the GBCSA. He manages an extensive project portfolio with experience in the field of architecture on a diverse range of market segments.
At Exemplar Architects, we pride ourselves in the highest level of professionalism and design that suit our clients pocket.
As part of our professional design services, we cover a broad range of market segments which include: mixed-use, retail space, office + commercial, hotel + leisure, refurbishment + regeneration, educational, residential, industrial, specialised, urban integration + master planning, & interior architecture + design. 3 services to assist our clients in making an informed decision prior to committing to a building project include: pre-briefing exploration, cost estimation, & renewal services. To ensure that all deliverables are achieved, close interaction with the contractor, professional team and client ensure collaborative project satisfaction.
Get in touch with us on – info@exearc.co.za – to setup a meeting to discuss your next building project.
Cutting edge design for modern clientele over various market segments covering; mixed-use  I  retail space  I  office + commercial  I  hotel + leisure  I  refurbishment + regeneration  I  educational  I  residential  I  industrial  +  specialised
Enhle Gardens, a high density residential estate located within the heart of Embalenhle, Secunda. The estate forms part of the Embalenhle Mixed-Use Precinct and will surely be a sought after residential destination in the area.
MEDICINAL FACILITY – PARYS
A first of its kind in the Free State! Master Plan Concept for the establishment of a state-of-the-art Medicinal Facility comprising of Greenhouses, Processing & Extraction Plants, and Research Laboratories.
43 Voortrekker – Newcastle
Design proposition for new office headquarters for one of Newcastle's leading Chartered Accountants.
Design proposal for an Aparthotel in downtown Newcastle.
House Munyadzi –  Kyalami
Facade upgrade and site improvements to modernise this farm style property to suit the new owners architectural taste.
Regeneration Proposal – Newcastle
Design proposal for the conversion of a two storey hotel into a four storey mixed-use residential building.
Rooibok Avenue Development – Newcastle
Design proposition for a mixed use building comprising of a retail anchor, fast food outlets and flexible office space in the developing node of Hutten Heights.
Scott Street Mall Redevelopment – Newcastle
Redevelopment proposal for converting Scott Street Mall into a mixed-use 'peoples' precinct integrated with the city's urban fabric and Civic Components.
Looking at the broader picture is paramount, hence we focus on integrating our designs with the surrounding through; urban design + master planning.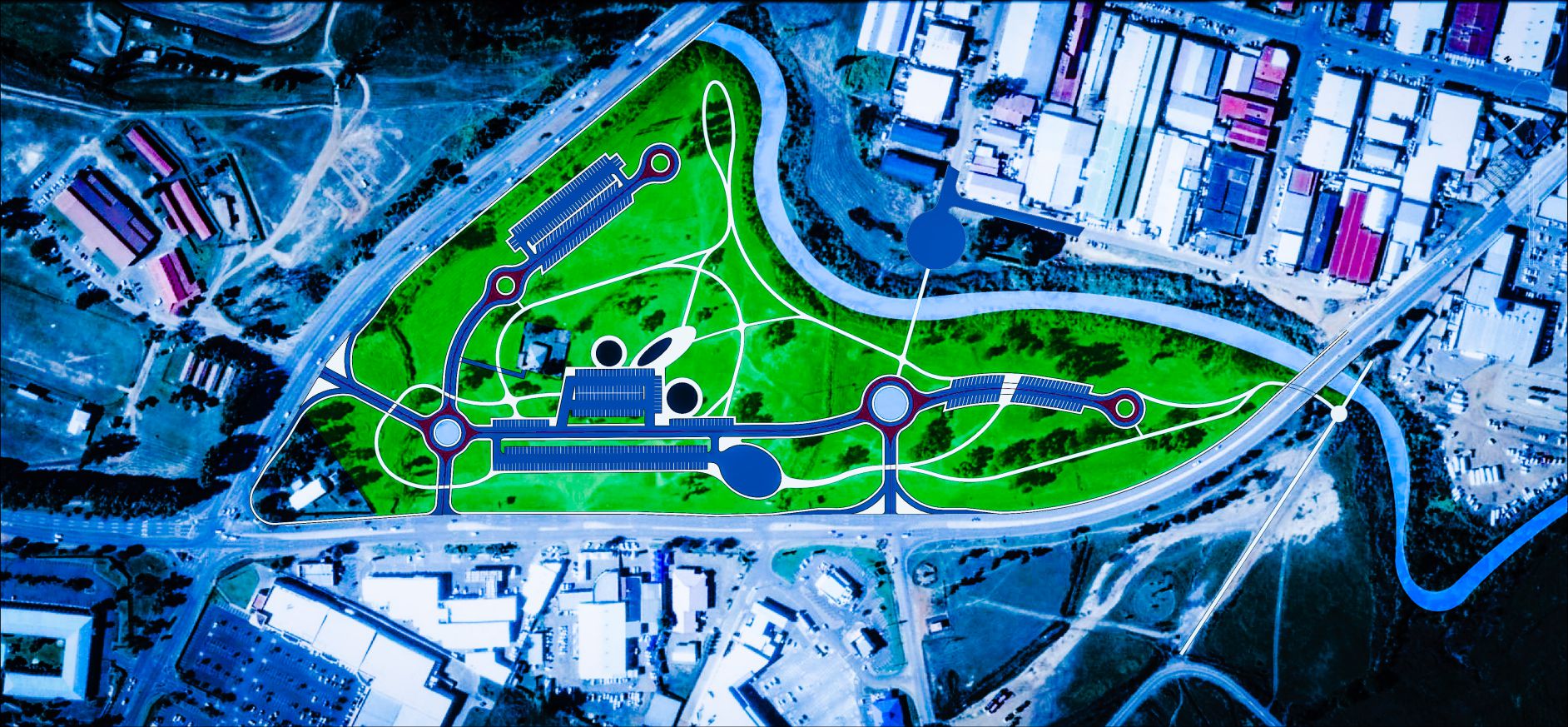 TRIM PARK REVIVAL – NEWCASTLE
DURBAN's BLUE LAGOON COMES TO NEWCASTLE! Newcastle's Trim Park over time will be transformed to evoke a similar vibe to Durban's popular Blue Lagoon. For many years, Trim Park has been a popular venue for families spending the day out, however today the Park is in a state of neglect. Viresh has engaged with the municipality to assist them in upgrading the park and in ensuring his vision is realised. His vision is to structure the park through vehicle & pedestrian circulation, parking, utilising the riverfront, cycling & jogging routes & relaxation & activity areas, lighting & landscaping, public ablutions and possible minor food offering all within a monitored precinct, connecting it to the surrounding developments, give the park the push that it needs to be a 'central place' for Newcastillians to gather.
The derelict piece of land adjacent to the Civic Centre is going to be transformed into a peoples place. Dubbed 'Urban Park' by Viresh Mahabeer, the Architect who proposes it's revival, Urban Park will be a place of respite for Newcastillians & city workers alike. Seeing that this prime piece of land is underutilised, being used as ad hock parking and by vagrants, although having tremendous potential to become a place of connection within the Civic Precinct, I have engaged with the Municipality to see my vision materialise. This 'node' in Newcastle's urban fabric will function as one and to contribute to the Municipality's 'AliveAfter5' Campaign by bringing life back to the CBD after sunset. My vision is to structure the park through pedestrian circulation, parking, relaxation & arts & craft market, trees, lighting & landscaping, connecting it to the surrounding developments, establishing itself as a place of nature within the Civic Precinct & CBD.
ENHLE LIFESTYLE CENTRE – SECUNDA
The Enhle Lifestyle Centre, a 5 000 sqm suburban mixed-use convenience destination located within the heart of Embalenhle, Secunda. The shopping centre forms part of the Embalenhle Mixed-Use Precinct we are currently planning which seamlessly integrates into the surrounding township.
Emphasis on interior detailing is significant due to the intimacy experienced whilst indoors. Understanding the importance of this on the inhabitant, we ensure that experiences and interaction are enhanced through attention to detail through; tenant installation  I  internal fit outs  I  internal renovation  +  refurbishment.
Interior design concepts for Enhle Gardens residential units in Embalenhle, Secunda. These lifestyle orientated, affordable housing units are aimed to target the middle income group and will be a sought after residential destination.
As part of our design services, we assist our Clients with Branding & Signage Design of their developments to tie in with the architectural design.
Assistance in making informed decisions prior to committing to a building project:
pre-briefing exploration  I  cost estimation  I  renewal services
Corobay Corner
Suite 5b, Ground Floor
169 Corobay Ave
Menlyn Maine
Pretoria
South Africa